About Hildersham
Welcome to the Hildersham website.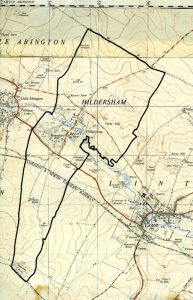 Welcome to the Hildersham website. 
With a population of no more than about two hundred, Hildersham is a small but vibrant village in South Cambridgeshire, some eight miles to the south-east of Cambridge.
It is just off the A1307, the main road to Haverhill, and is close to the villages of Linton, Abington and Balsham.
It is famous for its breathtaking display of daffodils in the spring, its beautiful meadows, and the river Granta, which flows through the centre of the village on its way to Cambridge. It is a very active close-knit community centred on the village hall, and the 12th century church of Holy Trinity, which features one of the finest Victorian Clayton and Bell stained glass and painted chancels in the country.
It also has no fewer than three SSIs (Sites of Special Scientific Interest): Hildersham Wood, on the Cambridgeshire/Essex county boundary; Alder Carr, a wet spring-fed woodland area in the centre of the village; and Furze Hill, an esker ridge near one of the other village boundaries and the  Roman Road running to the north of the village.